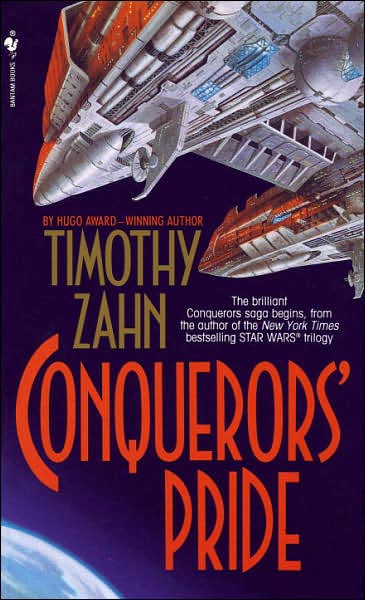 Conquerors' Pride is the first book in a trilogy by Timothy Zahn dealing with human/alien first contact. It takes place a few hundred years in the future and Earth has already come in contact with several other "neighborhood" civilizations. It is at this point when Pheylan Cavanagh, commander of a battle group, encounters a new and unknown spaceship. His attempts at contacting this new race ends in disaster. His entire group is wiped out and he is the sole survivor...He has been captured as a prisoner of war.

Pheylan's father, Lord Stewart Cavanagh is a former politician and leads an illegal band of friends and associates to try to find his clues to his son's location as they have not found his remains in the wreckage.

Meanwhile, Pheylan undergoes interrogation from the alien species, calling themselves Zhirrzh. His main interrogator, Thrr-gilag, is a patient expert on alien contact and is in charge of extracting information from Pheylan to gain and advantage over the humans in the coming war. The thing that they cannot agree on is which side fired first. Thrr-gilag accuses the humans of using an Elderdeath weapon on the Zhirrzh ships and Pheylan says that the Zhirrzh they only tried to communicate with them and the honeycomb-shaped ship fired their deadly lasers and wiped out the the human force.

This is a very entertaining space opera with quick chapters, smart characters and interesting alien features. I'd read this series several years back and in a lull in my reading material, decided to pick it up again. I'm glad I did. It's an excellent sci-fi story.