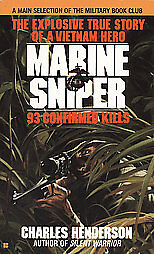 I just finished reading Marine Sniper by Charles Henderson. It is the true story of Gunnery Sergeant Carlos Hathcock II, a Marine sniper in Vietnam. Gunny Hathcock is a legend among the Marine Corp and all the Snipers across all services. He has a record of 93 confirmed kills, although there are over 300 unconfirmed kills that could be accredited to him.
This book is an excellent look into his life and into the formation of the Sniper as a Marine and later, military wide fixture. It was written using official Marine Corp records and personal recollections of participants. It is an outstanding read and offers a look into the life of an incredible man. Gunny Hathcock was the epitome of a Marine. He was also a warrior's warrior. The tales told in this book may seem to be unbelievable, but all that I have read about him corroborates with this book.
I was impressed with the writing and the overall story. While being a true story, it was not bland at all. It really put you into the moment.
For more on Gunny Hathcock, you can read a full post at my blog,
http://www.clutteredeclecticmind.blogspot.com/