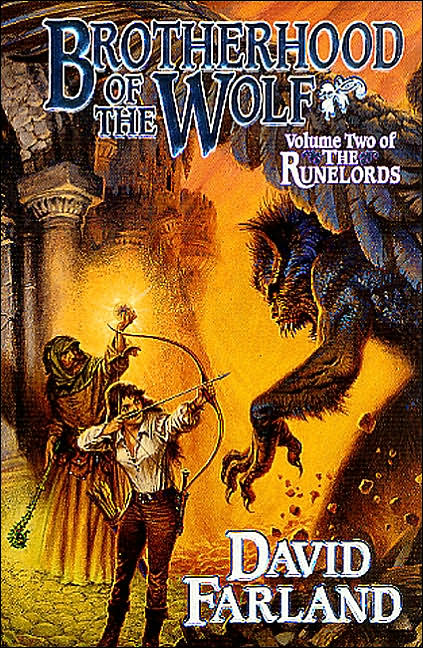 Book two of The Runelords series continues not long after book one ends. The Wolf Lord, Raj Ahten has begun to conquer some of the kingdoms of Rofehaven, using his massive Voice to either persuade surrender or to bring down the castles.

Meanwhile, the newly crowned Earth King, Gaborn Val Orden is Choosing those who will be loyal to him to help him in his fight against the Wolf Lord. Gaborn must decide how he is to defeat Ahten as the Earth has called him to save life and not to destroy it.

But, a new and ancient force is issuing from the Earth; the reavers are a giant race of hideous creatures that are pure evil in their conquest. All three...Raj Ahten, the Earth King and the reavers...meet at Carris for an epic battle.

The magic used in The Runelords is one of hoarding endowments from your servants, as I've written here. It's an interesting set of rules to live in.

The Brotherhood of the Wolf was a little slow to begin although it's ending battle takes up almost the final third of the book. One thing I've noticed in this series (I've not read anything else by this author) is that a whole novel may cover three to four days total. In fact, from the beginning of the the first book to the end of the second only covers a few weeks time. This in and of itself isn't a bad thing, but it can be a bit disorienting to read half the book and only cover a day, especially is you are reading other things concurrently. It took me a few weeks to read this book because I was reading the Harry Potter series also. I didn't find any real chronological inconsistencies with the story, but it was really tightly packed with background and parallel chapters.

Like I mentioned above, the pace may have suffered at times due to the seemingly slow rate of time per page, but the final battle scene is epic, to say the least. I found it hard to put down at work and was eager to see what came next. The overall plot seems to demand more due to the short supply of time involved in the book.

Overall, this has been an enjoyable series so far. Not my favorite, but one to continue to read along with the many other things I want to read.