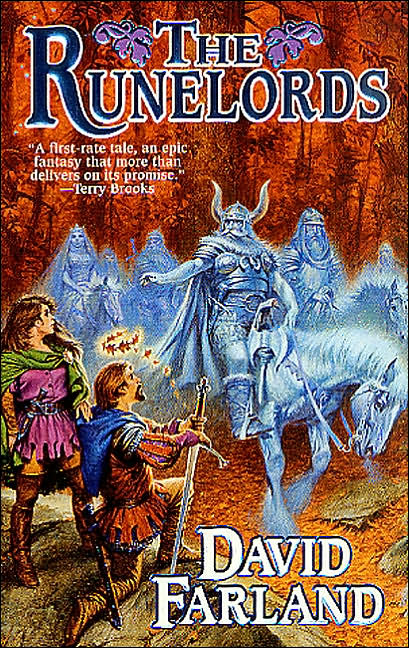 The Runelords is the first in newer fantasy series about a world where power flows from those who have accumulated runes or endowments from others. Ideally, these endowments are given by commoners or other citizens to their king or soldiers in order to defend their lands. Brawn, wit, stamina, metabolism, grace, voice and glamour are some of the endowments that can be given. Receiving certain endowments can have a downside. Too many metabolism runes can drastically shorten your life. If you have given endowments or are a vector for endowments, then you have lost those abilities. Losing wit leaves you an idiot. Giving up glamour makes you ugly. Giving your sight or hearing leaves you without those senses. An honest receiver of these powers (i.e. a good king) is charged with protecting those who have given their abilities to their lord. If the Dedicate (the one giving the ability) dies, the runelord loses that ability, as it will go with the Dedicate to his death. If the receiver dies, then the ability goes back to the Dedicate.

As the harvest festival gears up at at Castle Sylvarresta, the evil Wolf Lord, Raj Ahten, is massing his army to attack. Raj Ahten has also amassed many thousands of endowments to himself. By using his ill-gained Voice power, he smoothly talks his way into conquering the Castle and the kingdom without any bloodshed. Prince Gaborn, son of Sylvarresta's good friend, Orden, king of Mystarria in the south, is on his way to Sylarresta to ask for Princess Iome's hand in marriage. They are both caught in the conflict and escape.

As the kingdom's line up to fight the Wolf Lord, Gaborn has been chosen to be the Earth King, an appointment that has not been given in over a thousand years. He must grow in this new role and learn to be able to fight Raj Ahten, who has proven himself almost unbeatable.

I enjoyed this book because it almost reminds me of a role playing game in that the number of runes a person has somewhat determines if you can be defeated by another person. One theme that is common in this book is the need to take care of the earth. The oath that Gaborn takes as the new Earth King ensures that he will, if he wins, take care of the earth.

This book has many common elements of modern fantasy. Wizards, heroes, villains, and a multitude of mystical beings. Swordplay, battles, treachery and magic. I look forward to reading forward in this series.