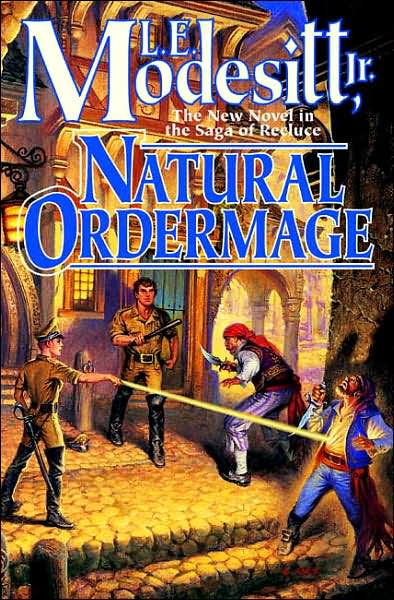 Natural Ordermage is the 14th volume of L. E. Modesitt's Recluse series of fantasy novels. It is the beginning of a new character in a two-novel series within the Recluse series. His name is Rahl and he is a natural ordermage, a new facet of the magic in the world of Recluse.

Rahl is from Recluse and, as in the other books that deal with the order side of magic, any person on that island that has order abilities has to either be trained or exiled (Those gifted with the chaos side of magic are immediately exiled). Rahl tries to hide his seemingly limited abilities with order but it is discovered by a local magister and this magister is also corrupt. Rahl soon finds himself at Nylan, the order wizard training facility/city on the other side of the island.

Rahl must soon come to grips that he cannot be taught well with his type of control over order. This leads to exile to Hamor, a larger continent across the sea that is more of a melting pot than the people of Recluse.

Natural Ordermage is typical Modesitt writing. He has a earthy style that I like. I was excited when I found this book at the store. His settings in Hamor impressed most due to the fact that there, both order mages and chaos mages work together in society. In his earlier books, if the main character was an order mage, it was inferred that chaos was evil. Likewise, if the books focused on a chaos mage, then order was given a negative-connoted, fundamentalist desciption. So, in Hamor's society, Rahl joins and works with chaos mages. It was a refreshing change of pace.

Modesitt's Recluse series, while not as popular as the Wheel of Time or some other fantasy series's in stores, is an excellent study in the typical fantasy character, who has a big flaw, but works very hard to overcome adversity through and in spite of his flaw. One note with this series, it is recommended that it be read in the order in which he published the books. While his timeline skips around tremendously from book to book, it is quite satisfying how he weaves details from other stories into the current storyline. I enjoy this series.